FirmGreen® uses its proprietary biogas cleaning systems to convert biogas to highly purified methane. Our technology provides an economical path for producing a variety of renewable fuel products from waste gases. FirmGreen systems safely and economically remove contaminants from landfill gas (LFG) or other biogas using liquid carbon dioxide solvent condensed directly from the waste gas.
Our biogas processing systems use well-developed conventional unit operations of chemical engineering: compression, refrigeration, absorption, and gas separation.
Customers benefit from our modular, skid mounted design that minimizes site prep
FirmGreen equipment is designed to simplify construction, installation and maintenance of biogas utilization facilities:
modular, scalable, and skid mounted equipment
lowers technical risk: depends on well-developed engineering principles
minimizes in-field piping connections
minimizes in-field electrical and control system tie-ins
uses patented VerdeWatts™ remote monitoring of plant operations designed for unattended operation
CO2 Wash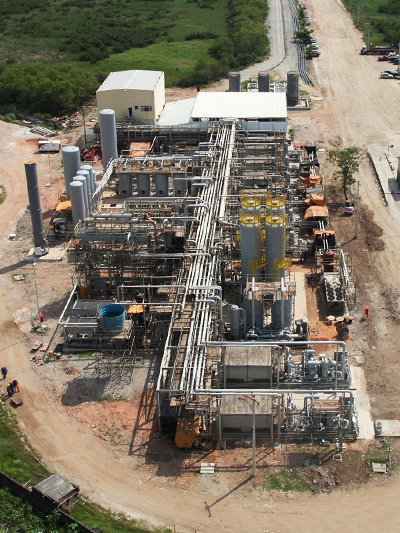 Skid mounted and modular, FirmGreen biogas processing facilities are scalable to accommodate treatment of various gas volumes.
Advantages:
Our CO2 Wash system has unmatched ability to effectively remove VOCs, NMOCs, and siloxane to 10 parts per billion (ppb) or lower,  offering complete flexibility for end use of the cleaned methane: with our systems, biogas can be upgraded to meet pipeline gas and OEM vehicle fuel specifications.
Typical Plant Configuration:
A typical configuration consists of a pre-treatment skid, the biogas cleaning module, and optional polishing modules to condition the gas for specific applications. The system's compact footprint makes it suitable for locations with limited land available to site a project.
Most Suitable Project Type:
Our CO2 Wash system is best suited to landfill  and/or similar projects, where the variety of contaminants and variability of contaminant levels requires a biogas purification process that can effectively address a wide range of contaminants.
Module Size Range:
FirmGreen offers modules ranging in size from 300CFPM to 12,000CFPM. Modules can be combined to handle almost any range of biogas flow.